Continuously Monitor and Reduce Third-party Risks
RiskXchange Platform provides a 360° vendor risk management, allowing you to discover, assess, continuously monitor and reduce third-party risks.
Are You Aware of your Cyber Risks?
Claim your company's free account to gain visibility of cyber risks across your organisation's external attack surface and supply chain. Discover critical security risks before someone else does.
Secure your Public Attack Surface with
Digital Protection and Intelligence Services
Watch our video on leveraging attack surface management and how RiskXchange solutions can help protect your organisation.
RiskXchange Platform provides a 360-degree vendor risk management solution with integrated security compliance & governance assessments and instant security ratings to promote risk-based decisions, when it comes to your third parties.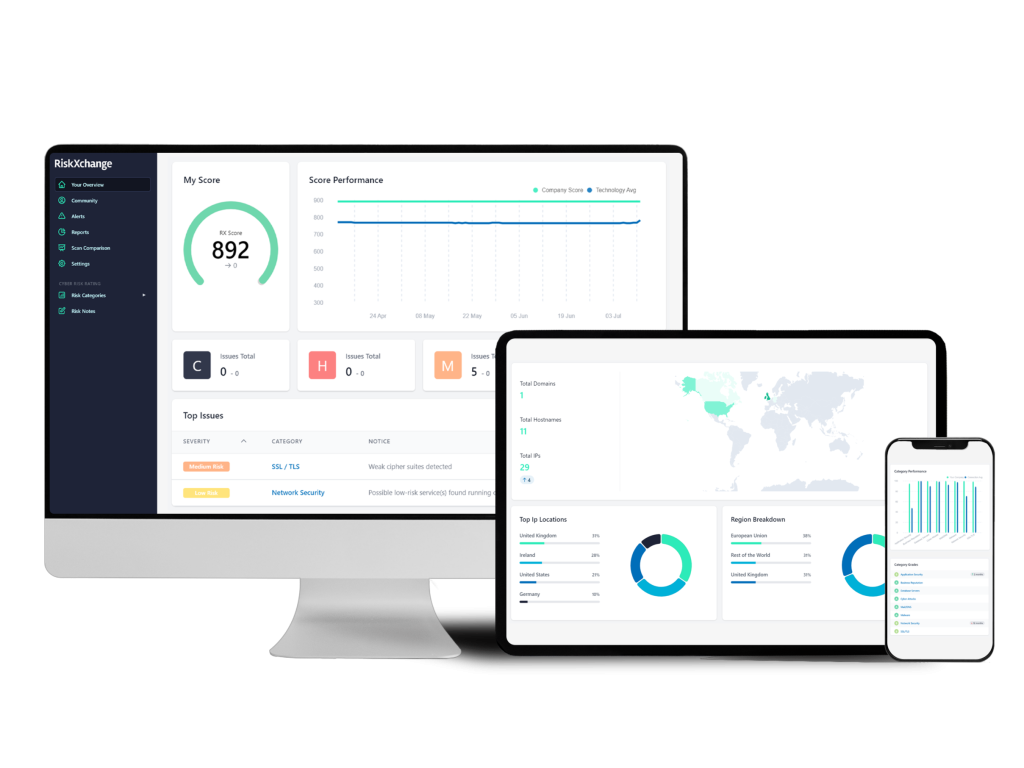 Enforce Third-party Security with our Solutions:
360° Cybersecurity Risk Ratings
Gain a security rating, understand risk, and continuously monitor the security posture of any company worldwide.
Digital Risk Protection
Protect your brand and business with the RiskXchange fully-integrated Digital Risk Protection feature.
Attack Surface Management
RiskXchange can monitor your attack surface continuously to prevent data breaches, information leakage, as well as discover and report on a wide range of cybersecurity issues.
Security Assessments
Benefit from automated assessment distribution to your vendors, and the RiskXchange Platform will chase them for completion.
Continuous Third-party Cyber Risk Management
Just a few of the brands on RiskXchange platform:
RiskXchange works with different business and technical partners to provide the vendor security solutions you need.
Slide

Slide 2

Slide 2
What Our Clients Say About Us
"We are thrilled with the RiskXchange solution. Ensuring that our third-party supply chain is secure is of paramount importance to us and whereas it used to take weeks and in some cases months to complete lengthy third-party vendor assessments, it now takes us hours. The RiskXchange platform has helped us to streamline the process, saving valuable time and money, which we can re-invest into helping people in need.

The Automated Security Ratings and Assessments solution that RiskXchange provides helps us facilitate sometimes tricky security analysis with our suppliers, making it an integral part of our vendor risk management program."

Miguel Fiallos, CIO at the Salvation Army
"RiskXchange enables us to gain enterprise-level insight into our cyber security risk and identify areas for remediation. We were able to rapidly implement and configure the RiskXchange platform and establish essential policies and procedures as the foundation of a greatly improved cyber security posture."

Alain Cain, Head of Information Security at Rail Delivery Group.
Get a Free Personalised Demo
Want to assess current vendor security standards? RiskXchange is offering a free demo of our platform to help you determine how well you can assess your vendor infrastructure.
Discover the Latest Posts from our Security Blog
Subscribe to our Monthly Cybersecurity Digest
Interested in learning about combatting cyber risks and sustaining a healthy cybersecurity posture?
Want to improve your cybersecurity rating? Subscribe to our monthly cybersecurity newsletter today!